ABOUT S&A MEDICAL GRAPHICS
Experience You Can Trust
S&A Medical Graphics is the nation's leading creator of demonstrative evidence for the defense of medical malpractice litigation. We exist to serve our clients who have entrusted us with their exhibit needs for over 28 years. We are experts in the field of Medical Illustration and visual case strategy. Our highly trained Medical Illustrators all have a Master's Degree in the field, ensuring innovative, effective defense strategies and compelling demonstrative exhibits of the utmost accuracy. S&A Medical Graphics has a 93% rate of positive outcomes, compared to the national average of 86%. We have branches across the country and clients in all 50 states. We invite you to make S&A Medical Graphics part of your team today!
Specializing In Defense
S&A Medical Graphics focuses our services on the defense community and has worked continually over the past 28 years to cultivate and strengthen alliances with our client attorneys and malpractice insurance companies across the nation. We also support the defense community by exhibiting at annual conferences for MPL and DRI, often serving as sponsors for events.
The S&A Difference
• Free Consultation
• No-obligation Proposals
• No Rush Fees
• National & International
• Fully HIPAA Compliant
• Overnight Shipping
• 28+ Years Experience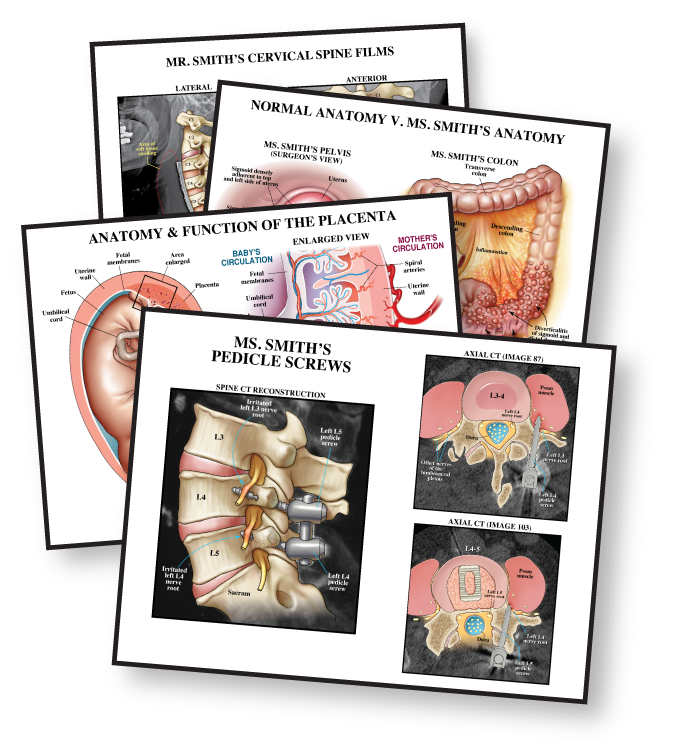 "We deeply appreciate the quality and quick turnaround time in which you delivered your work product…"
"We recently tried a complex gastric bypass case with multiple issues… We could not have tried an effective case without S&A's expertly crafted medical graphics."